the f words

logo & social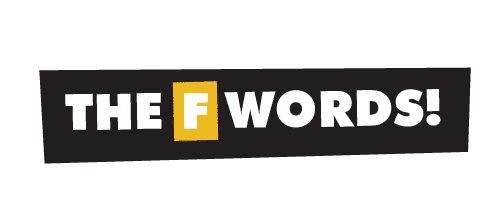 I was approached by Alison, Verity & Robyn who all had several years of experience running successful networking events in the Northamptonshire area before the recent lockdown restrictions.
During the lockdown of 2020, they created a new networking group and needed a new logo. To complement the logo, they also needed secondary material that could be used on social media to advertise any events for their newly-formed networking group.
The brief was simple; to create a logo that made the group stand out from the million others online. No cliché slogans or stock images like a circle of faceless people embraced in a fake handshake.
It needed to capture the fun, disruptive nature of the group. It needed a logo that when you see it, you drop everything and take notice.
My initial concepts had a few different styles and images in play. But in the back of my mind there was a rebellious nature that drew me towards the theme of ransom notes.
So, I repurposed found lettering from guerrilla marketing and fly posting to bring the message (no pun intended) to life.
It was the opposite of what anyone would expect from a networking event. It was perfect for what they wanted. The use of bold colours and bold fonts really attracts the eye.
With the logo finished, I moved onto creating the social images. I set up a series of layouts for social posting, done in such a way that made post-making a "mix and match" affair.
I created graphics leading up to the event launch, and needless to say, the launch event of the group saw record numbers for any of their events.
As a result of successful collaboration, I continue to provide artwork that's used for engagement on social media and promoting future events.
I also created a supporting logo variant for when they need to move away from their usual networking slot.
For more info on the event you can find them here
James is amazing. I am not the easiest of clients. But he was very patient and professional until we found a logo I love . Highly recommend him.
got a project
you need a hand with?
If you want to know more about how we can help your business and get to know the Pink Octopus or the guy behind it (a.k.a. the artist formally known as James Mossop), then please fill in the form and let's design the future of your business together.